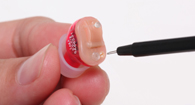 Blue Left Hearing Aid VS. Right Red Hearing Aid
This is Austar Cadenza C series hearing aid. Three colors are available. The CIC hearing aid use digital chips with high speed DSP signal processing, intelligent noise management system and feedback processing function, provide users with comfortable and excellent clarity listening pleasure.

There have 2 types ear domes: open-fit ear domes and closed ear domes. That can help user to hear comfortably during different environments, such as quiet home, traffic and meeting.