Alibaba hearing aid online store
2023-02-21
We have been opening hearing aid stores on Alibaba for more than 14 years, and AUSTAR is one of the earliest hearing aid manufacturers to enter the Alibaba platform. Designed to facilitate the online wholesale/purchase of hearing aids for dealers and end customers.
AUSTAR's official store on Alibaba
Store Name: Austar Hearing Science And Technology (xiamen) Co., Ltd.
Store Website:https://austarxm.en.alibaba.com/
Shop homepage image: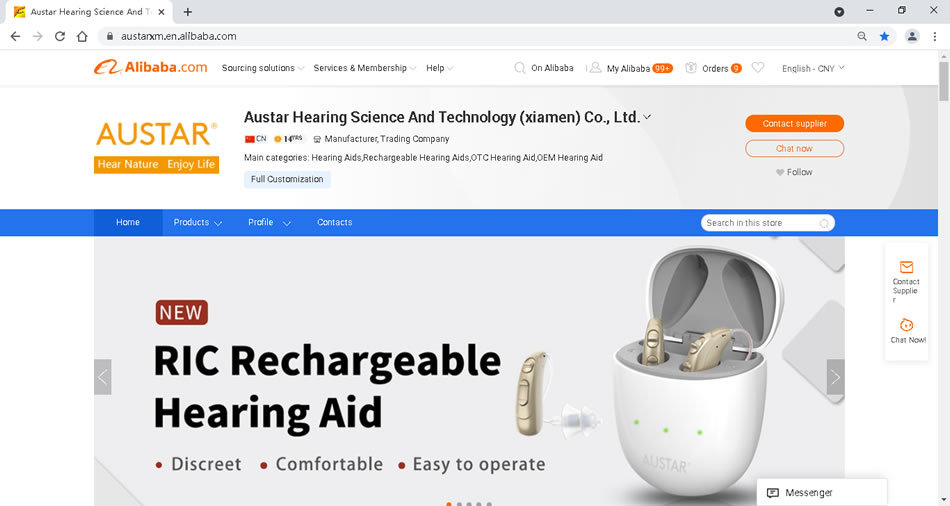 It may be updated and changed according to the actual situation. You can visit the store's website to view the latest homepage.
Hearing aid reviews:

AUSTAR hearing aids are highly reliable, durable and affordable, and are well received by customers all over the world. 100% 5 stars so far, great.
Hearing aid products:
The products on Alibaba's hearing aid store are the same as those on Austar Hearing official website. All are wholesale and sold to hearing aid dealers and end customers.
Hearing aid price:
Our prices are more affordable and competitive compared to other brands in the market.
Send an inquiry:
You can make an inquiry either on the Alibaba platform store or on the Austar Hearing official website (www.austar-hearing.net). For example, fill in your needs in the following form and we will contact you as soon as possible.