Austar IA platform intelligent audiology technology for hearing aids
2021-07-27
Austar IA platform, Introduce the hearing aid technology, latest advances in hearing aid technology, cutting-edge hearing aid technology andhearing aid technology in the future.
Austar hearing advance deep neural network integrate with auditory scene perception technology of newest intelligence speech signal processing, on the basis of hearing acoustics, phonetics, electroacoustic, signal and information processing research. Through high rate DSP, low consumption Wireless technology to comply cell phone or computer to connect with hearing aid fitting by high rate, and create a new signal processing intelligence audiology enhanced platform for hearing aids. With new supervised adaptive learning enhancement hearing algorithm, using classification to imitate human hearing learning process, continuous accumulation of data and self-improvement function, intelligent separation of speech and noise to achieve significantly improved listening needs in speech-discriminating and complex environments for hearing-impaired patients, and benefit more hearing-impairedpeople at an affordable price.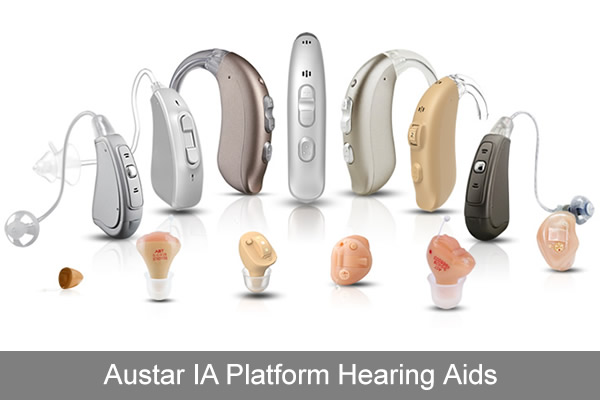 Austar IA platform programmable hearing aid bring new hearing feeling and more comfortably feeling for you. Allow user to achieve more satisfying, clearer, and natural listening experience in a variety of environments. During fitting and debugging, the communication speed is faster and the operation is more convenient. The user is no longer limited by the programming line during the debugging process, and can walk freely within 5 meters to feel the listening effect of all parties. And the cloud service user can be debugged remotely through the network.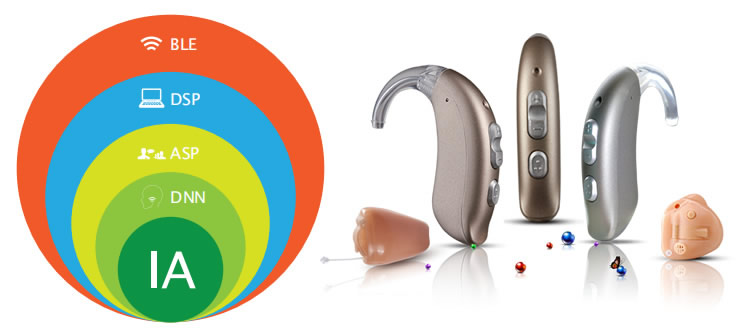 | | |
| --- | --- |
| Advantage | Benefit |
| Intelligent supervised adaptive learning intelligent function can separate speech and noise. With automatic volume learning, volume record and program record. | Record user's favorite program and volume level. Improve speech comprehension more than 50%. |
| Wireless fitting. Fast and convenience. | Enjoy hearing from all direction. Walk freely no program cable restrict. |
| Intelligent analysis environment signal function to analyze noise ratio information High precision intelligent directional focusing. | User can hear more clarity and more natural sounds in a variety of noisy environments, even in places where the sound source moves quickly. |
| Up to 32 independent channels can adjust to gain, DDRC, expansion and output functions levels. | The sound signal processing function make sound more precise, the sound compensation more accurately, and the fitting operation more convenient. Allow user to listen more clearer, more comfortable, more natural. |
| Different series of different types of hearing aids on the IA platform can share data with each other, and can save multiple fitting records independently. | Different types of hearing aids can transfer data to each other, which can provide users with more listening choices, allowing users to retrieve the listening data that was previously considered good. |
| Intelligence APP for power control and function adjustment. Convenient for users to find hearing aids. | User can view the hearing aid power from your mobile phone anytime, anywhere, and independently adjust the volume and switch the listening program according to the listening environment. |
| Tinnitus masker function setting according to user's requirements. | It can mask the sound of the user's tinnitus, to achieve a certain degree of relief of tinnitus, and divert the user's attention through a wide range of soothing background sounds. |
For more detailed information about platforms and products, please contact us.
About AUSTAR Hearing Aids
AUSTAR is a professional hearing aid manufacturer for medical standards in China, wholesale behind-the-ear (BTE) and in-the-ear (ITE) types of hearing aids, rechargeable hearing aid. Digital programmable hearing aids use our own fitting system software for programming hearing aids to ensure superior quality of hearing aid and make price competitive in this industry. Our main customers are hearing aid wholesalers/dealers across the USA, Europe, Asia and Mid East.
Please feel free to contact us if you are hearing aid wholesalers/ distributors and looking for a trustworthy Chinese manufacturer/ supplier. No only provide a full range of hearing aids, we have a strong R&D teams and engineers to support your any special requirement and development. We are not only your supplier, but also your partner and technical supporter. AUSTAR commit to provide customers with excellent service, satisfactory quality and competitive prices, help you expand your market and save hearing aid price/ costs!