How to check your child's hearing aid every day?
2021-07-21
Hearing aids are electronic devices, but sometimes they are damaged. Every day, children rely on their parents to check whether the hearing aids are safe and functioning properly. The earlier problems are found, the faster they can be solved. For example, charging at night, rechargeable bte hearing aids used during the day. Need to check whether the child forgets to charge before going to bed.
This is the way to keep your child's hearing aids in the best condition: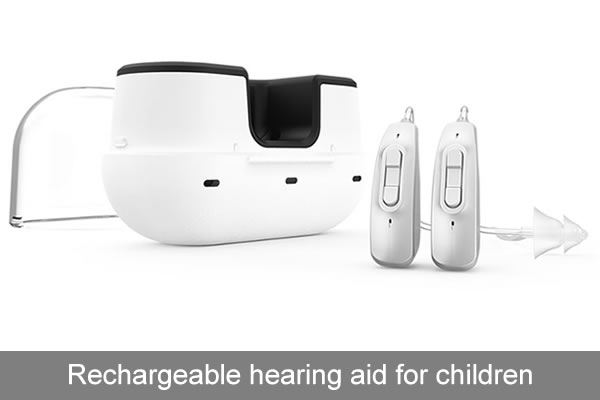 Get the right tools
When the child is fitting the hearing aid for the first time, the store should provide or ask the parents to prepare the hearing aid Maintenance Kit by themselves, and ask the audiologist to demonstrate how to operate. The tools in the maintenance kit include: simple monitoring earplug / ear mold, measuring appliance, drying box, earwax brush, blowing balloon, etc. If you have any questions or need to learn how to use it again, please feel free to ask your audiologist.
Quick check
Morning is often one of the busiest time for everyone, so the minimum requirement is the following quick check.
Turn on the hearing aid, hold it in your hand and listen to see if there is a whine. If yes, it means that the hearing aids are working now; If you don't hear it, please check the battery or ear mold for earwax blockage, broken sound pipe, etc.
Simple safety check. For example, whether the safety lock is locked or whether the ear hook and acoustic catheter are connected normally.
Children's language awareness test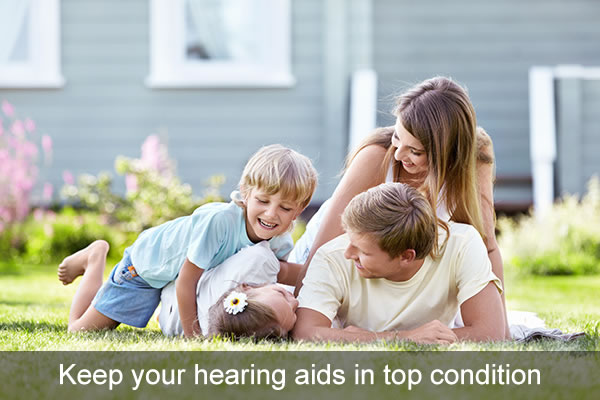 If the child is old enough to participate, the child voice detection test or Lin's six tone test can be conducted in the morning, which is another good choice. It checks the child's hearing and hearing aids at the same time. If you have any questions about your child's hearing, or if they plan to do something that focuses on listening, such as language lessons or speech therapy, they can do it repeatedly during the day.
Choose a quiet room.
When you stand one meter behind the child, please make a sound at the normal voice volume, send out randomly at a time, and Pause briefly for the child's response.
Once the child confirms or repeats the sound, please change to the next sound.
Step back, about two to four meters from the child, and then repeat the exercise to see how distance affects their listening.
The sound, a child hears with a hearing aid depends on the type and extent of hearing loss. Please contact your audiologist to find out what your child should be able to hear at different distances.
Other tips
Use of drying hearing aid tools: storing the hearing aid in a drying box can make the hearing aid dry, thus reducing the number of maintenance. This is especially important in humid environments or when children sweat more.
Encourage independence: if the hearing aid doesn't work, please observe the child's reaction, ask the child to tell you if there is any abnormality, and gradually let them participate in taking care of their hearing aid.
Keep dry: unless you have a special waterproof hearing aid, remove the aid before bathing or swimming.
Remove the hearing aid before going to bed: it's a comfort consideration. Even if the child is open when sleeping, if it is just a nap, it can not be removed, so it is not afraid to disturb them.
It's important to check your child's hearing aids every day. You need to do this until your child is old enough to tell you when something is wrong. If you have any questions or want to order cleaning accessories, please contact your fitter or manufacturer.
About AUSTAR Hearing Aids
AUSTAR is a professional hearing aid manufacturer for medical standards in China, wholesale behind-the-ear (BTE) and in-the-ear (ITE) types of hearing aids, rechargeable hearing aid. Digital programmable hearing aids use our own fitting system software for programming hearing aids to ensure superior quality of hearing aid and make price competitive in this industry. Our main customers are hearing aid wholesalers/dealers across the USA, Europe, Asia and Mid East.
Please feel free to contact us if you are hearing aid wholesalers/ distributors and looking for a trustworthy Chinese manufacturer/ supplier. No only provide a full range of hearing aids, we have a strong R&D teams and engineers to support your any special requirement and development. We are not only your supplier, but also your partner and technical supporter. AUSTAR commit to provide customers with excellent service, satisfactory quality and competitive prices, help you expand your market and save hearing aid price/ costs!