Which hearing aid is best?
2021-04-09
Which is the best hearing aids for tinnitus, seniors and severe hearing loss? How to choose the best hearing aids? Today, the hearing aid market is very complex, constantly changing and offering an immense variety of hearing aids and assistive listening devices. When you literally have too many options to choose from, it can be very easy to become confused and frustrated over the decision you have to make. However, this diversity has also made a very positive impact on the hearing aid industry.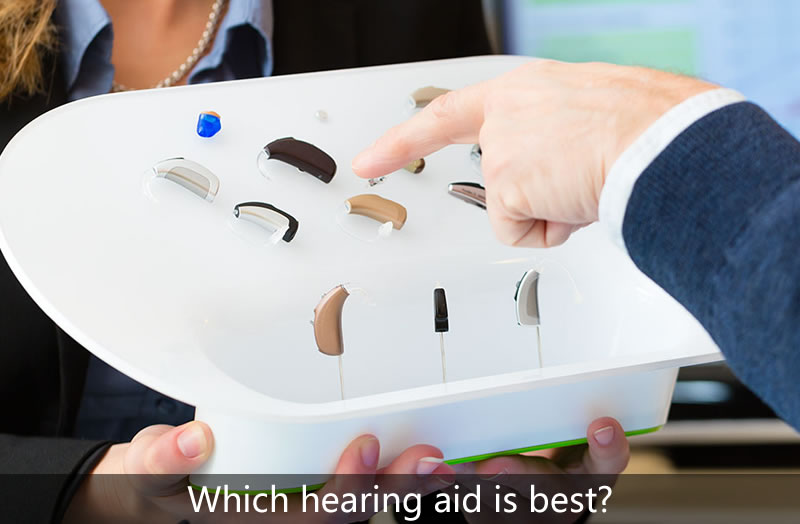 The leading hearing aid manufacturers are now in positive competition with each other, resulting in greater levels of customer satisfaction and modern high tech devices that are able to suit the needs of a much greater number of people. Of course, the race for the most innovative device also leads to one very important question, which every hearing aid user should ask themselves. The question is easy – "Which Hearing Aid Is Best?" The answer can be a bit complex and tricky. "Best" has to imply best for the individual and that is where the problem arises. Such as: which hearing aid is best for tinnitus? which hearing aid is best for severe hearing loss? which hearing aid is best for music? The personal needs of each person are as varied as the lifestyle that they lead and this is compounded by the degree and nature of their hearing loss. Faced with such variables, the argument must focus strongly on "best" having a high correlation with "flexible".
What about hearing aids' style or type? Is there a best format amongst the range of behind-the-ear, in-the-ear, in the canal, bone anchored, etc. devices? The short answer is "No". The best format is once again the system that will be most suitable for the individual. However, there are some certain facts that can help the user make a better choice. If the best format was to include reliability as one of its criteria, then we can state that there should be a leaning away from in-the-ear products and an emphasis on behind-the-ear solutions.
Without a doubt the best hearing aid is the one that works for you and gives back your world of communication. It is advisable to consult with a hearing aid specialist before you make your final choice.
Which hearing aid is best for tinnitus?
Which brand of hearing aid is best for tinnitus? what type of hearing aid is best for tinnitus? Most of the hearing aid products produced by AUSTAR have the function of masking tinnitus. You can choose the style you like from our BTE hearing aids and in-ear hearing aids.
Which hearing aid is best for music?
Our hearing aids with programming function have programs suitable for listening to music to choose from. Let you hear clearly in all kinds of scenes.
Which hearing aid is best for severe hearing loss?
At present, the hearing aids produced by AUSTAR basically have a series of hearing aids from mild to severe hearing loss. This is mainly based on your personal preference to choose a BTE or in-the-ear hearing aid. It is usually the best idea to choose BTE hearing aids for the seniors or kids with severe hearing loss.
About AUSTAR Hearing Aids
Xiamen AUSTAR is a leading manufacturer of hearing aids in China. Wholesale behind the ear (BTE) hearing aids, in the ear (ITE) hearing aids, rechargeable hearing aids and other types of hearing aids and use our own fitting system software for programming hearing aids to ensure superior quality of hearing aids and make price competitive in this industry. There are more and more hearing aid companies in the USA, Europe and Mid East choose to build long-term business relationships with Xiamen AUSTAR.
Please feel free to contact us if you are hearing aid wholesalers/distributors and looking for a trustworthy Chinese manufacturer/supplier. No only the custom hearing aid are available, we have a strong R&D teams and engineers to support your any special requirement and development. We are not only your supplier, but your partner and technical supporter. AUSTAR commit to provide customers with excellent service, satisfactory quality and competitive prices, help you expand your market and save hearing aid price/costs!