Austar Hearing Aids: Merry Christmas!
2021-12-24
Austar Hearing wishes you a Merry Christmas! In 2022, the financial resources are rolling in.
Founded in 2003, Austar Hearing is a national high-tech enterprise specializing in the research and development, production and sales of acoustic-related products such as hearing aids. It is committed to improving the hearing of the hearing impaired through technology.
The hearing aids produced by Austar have obtained ISO13485, CE, and US FDA certifications from SGS (Swiss General Notarization Group). It has also established a research and development team composed of experts from well-known universities at home and abroad to independently develop high-performance audio signal processing algorithms and obtain a number of inventions. Patent, utility model patent, software copyright and design patent, etc. Relying on its own R&D advantages, it has established multinational cooperation with ON Semiconductor, NXP Semiconductors, Intricon and Lou's Electronics.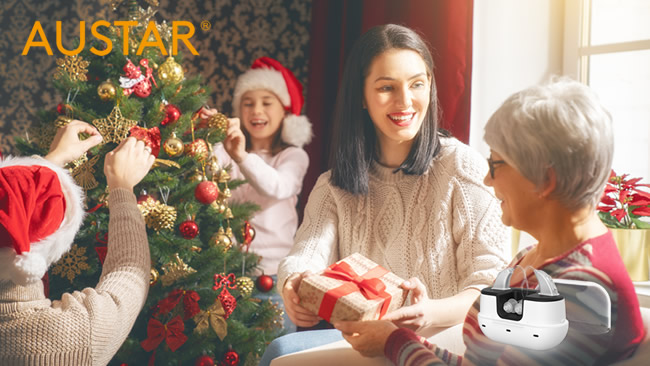 If you are looking for a reliable hearing aid supplier or a supplier of OTC hearing aids that can be sold online without fitting, Austar is the supplier you are looking for.
Austar is committed to providing high-quality products, carefully building a professional and reliable laboratory, using acoustic products as the main carrier, and featuring research on mechanics, thermal and materials, and reaching an international standard testing environment. Through reliability tests such as durability and weather resistance of surface coatings, mechanical tests such as electronic material environment and stress, mechanics and durability tests of injection molding materials, etc., we strictly guarantee the precise measurement of Austar products in development and design and normal experience in harsh environments. Provide guarantee for high-quality products.
Austar invested to build a full anechoic room, its main function is to provide free sound field space for acoustic testing, such as testing the sensitivity, frequency response and directivity of the receiver and microphone, and provide high-quality guarantee for the sound quality of hearing aids; DSP for hearing aids The development of algorithms provides a more scientific experimental environment.
While continuously gaining market success, Austar also actively participates in philanthropy, and continues to give back to the society in line with corporate social responsibility. Austar's contribution to the society is also the honor of all Austar people. Social responsibility has become Austar's main corporate culture.